Consultation Dates
We've already had two very sucessful consultations on the topics of Adult Faith Formation and Parish Culture. There is one more consultation upcoming.
June 21, 7PM: MAP Consultation on Missional Priorities
To pre-register, please see the Events listed below.
Introduction
A Mission Action Plan (MAP) is the result of the discerment of our community of faith that is meant to illuminte a pathway that will follow as we seek to join God in God's mission in and around us for the next three to four years.
The development of our own parish MAP will involve four sequential conversations around these topics:
Adult faith formation
Reshaping parish culture to enable ministry
Fullness of life in the neighbourhood
Prioritizing our parish Mission Action Plan.
We are all invited to participate and we will trust that as we pray, listen, choose, plan, and act, God will lead us by the Holy Spirit into deeper participation in God's work.
Mission Action Plan Leadership Team
The team leading us in this process includes Kate Connelly (chair), Graham Cubitt, Emily Hill, Tom Hubschmid, Bonnie Munn, Bryan Webber, and David Anderson. This team will guide us through a process that has been designed by Canon Christyn Perkons from our diocesan staff, adjusting it for our own unique needs and purposes here at Saint John's. The team doesn't create the MAP. That work belongs to all of us together. The team's role is to encourage and facilitate our participation, and assist us in our plan's development.
The Steps
Members of our leadership team will be meeting with Parish Council at their meeting on Tuesday, January 25, to give an overview of the MAP process, discuss the role of these key parish leaders, and to answer any questions.
Following the meeting with Parish Council, the leadership team will meet to plan how best to approach the four conversations. Every parishioner will be asked to complete a "Snapshot Tool" for each of the first three conversations which will help us with a snapshot of where we stand as a parish in relation to the topic of conversation. There will be gatherings (likely virtual gatherings during the pandemic) where we will share our perceptions of where we are, and more importantly, our aspirations, or sense of where God is calling us to be. The team will discuss other ways in which full participation can be encouraged.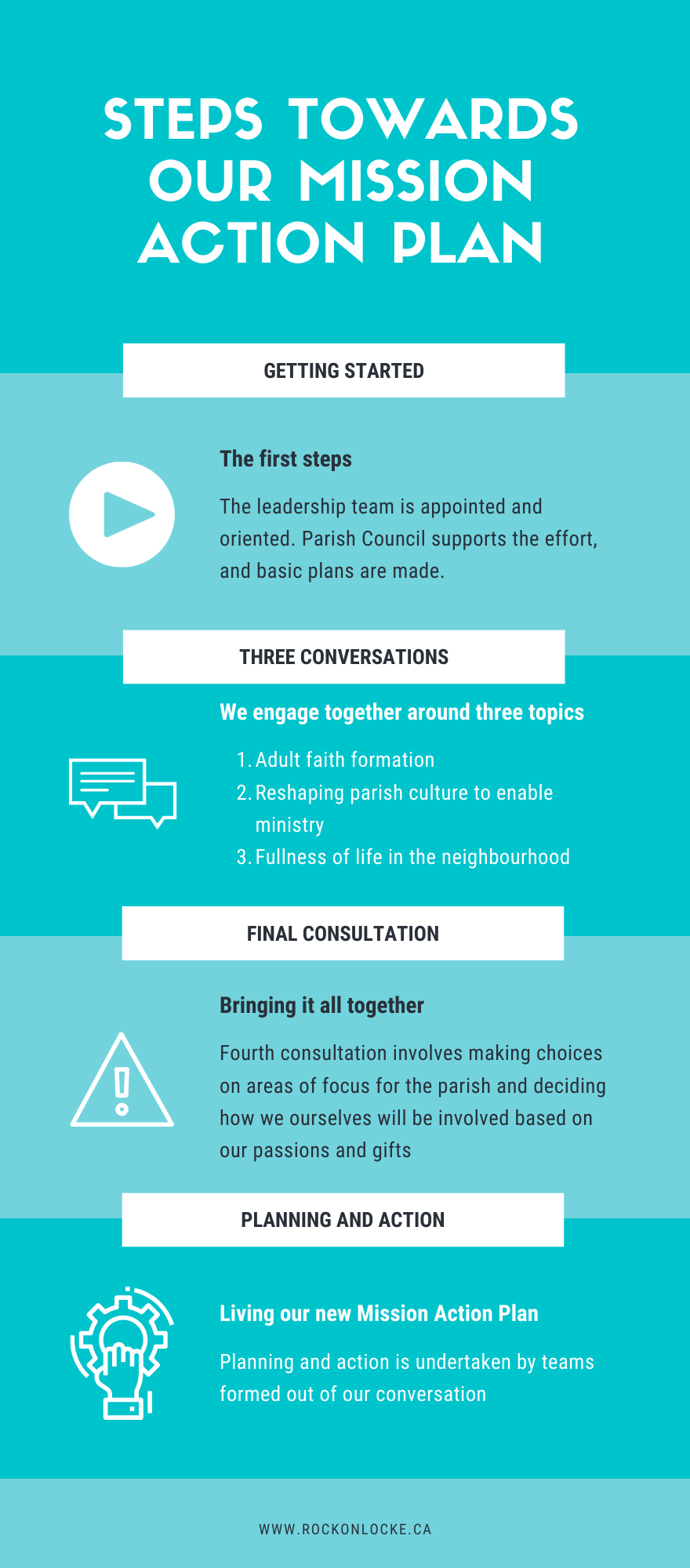 The Process
Throughout the steps our process will be one immersed in prayer as we listen, decide, plan, and act together.
Outcomes to Expect
At the end of this process we should expect that together we have identified a number of priorities around (1) adult faith formation, (2) reshaping our parish culture to enable ministry, and (3) fullness of life in the neighbourhood. We should also expect that our conversation about these will have excited vision and passion in us. We will gather teams of the interested around our priorities in order to animate them over the next number of years.
What will we hear God say? What will we learn about God, our neighbours and ourselves? What new ways is God calling us to join in God's mission?