January 26 - 27, 2019
4:00 pm
Church of Saint John the Evangelist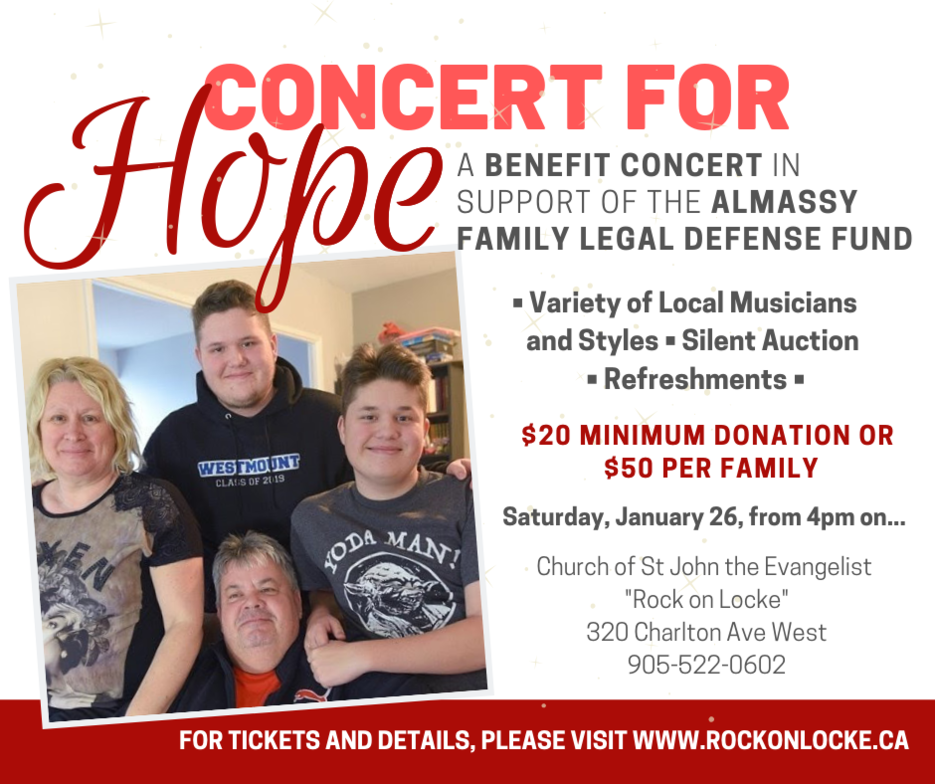 "Concert for Hope" | A benefit concert in support of the Almassy/Palfi Family Legal Fund. // Saturday January 26, 4PM // Church of Saint John the Evangelist, Hamilton //
$20 minimum donation or $50 per family. All proceeds will go to cover the family's legal expenses. Purchase your tickets by clicking below.
PARKING IS AVAILAVBLE; Melrose United Church parking lot (off Stanley Ave) and St Josephs Roman Catholic Church parking lot (access from Herkimer St. after 7 pm only)
A variety of local musicians will offer performances from 4PM. Silent auction, refreshments.
Concert Lineup
4:00 PM BUD ROACH
4:30 PM THE ST. JOHN'S CHURCH CHOIR
5:00 PM PAUL GRIMWOOD and TIM LO
5:30 PM MR. BEN
6:00 PM STEVE MCKAY
6:15 PM St. JOHN'S WORSHIP BAND
6:40 PM LYNDA JANE SOUTHON (and friends)
7:00 PM JAMIE SHEA
7:30 PM MIKE WILLIAMS AND RANDY WIZZO
8:00 PM ALLY SAMSON
8:30 PM LYLA MIKLOS
9:00 PM LORALEE MCGUIRL
9:30 PM PAUL SAGE
10:00 PM LANCASTER
10:30 PM BIG RUDE JAKE
11:00 PM A MAN OF MANY WORDS
for more information on the artists
Almassy/Palfi Benefit Concert on Facebook