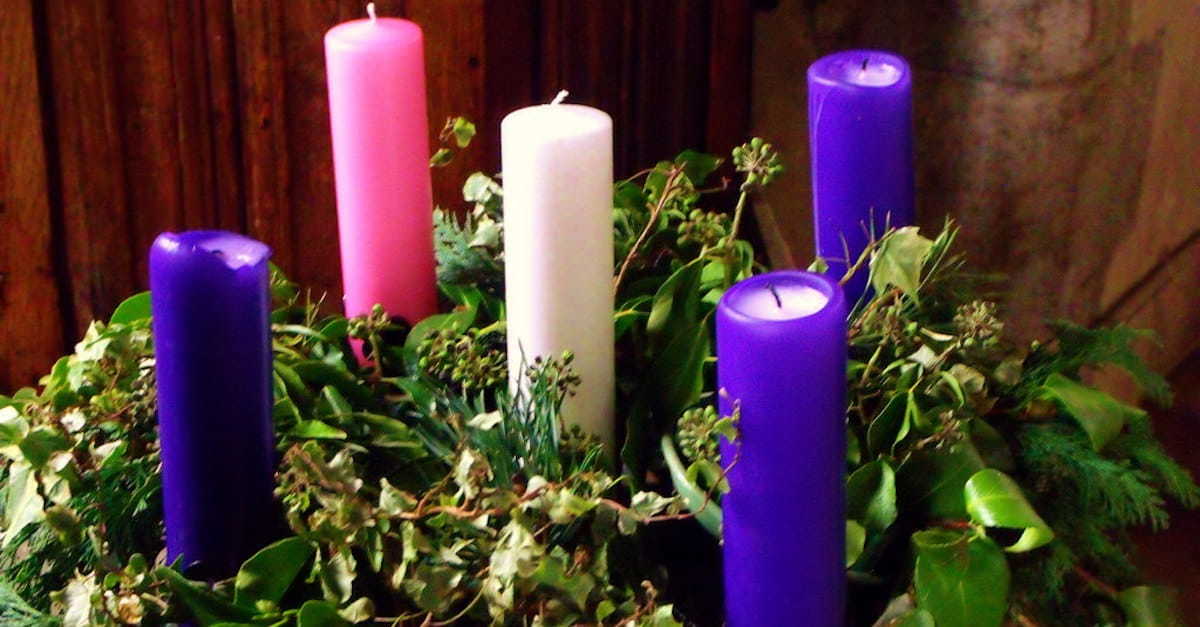 The First Sunday of Lent, 2018
Dear brothers and sisters in Christ, Fellow parishioners of St. John the Evangelist, and all other friends and neighbours with whom we share,
Last year I was assigned as a teacher's assistant for my supervisor's new course on technology and transhumanism, an assignment that proved to be so rich, challenging, and rewarding that it was without much doubt the best academic experience I have ever experienced. The students were engaged, sharp, and genuinely probing with complex materials that I worried might be too difficult for them, and their enthusiasm provoked me to invest a great deal of myself into preparing for them and engaging with them sincerely, which ultimately means to invest myself personally in their success.
On the week preceding Advent I happened to run into one of the brightest students in my class while having lunch at the university's "ecumenical chaplaincy", and just before we were about to go on our own ways for the day I turned to her and said "Oh yes, but do remember that Advent really is a penitential season", to which she replied: "What is penitential?" A bit puzzled at her answer I asked what she meant, and it turned out that she did not know what the word "penitential" meant. I was so stunned at this that I was literally rendered speechless. A year has passed now since this incident, and it still haunts me.
I recount this story to you here because we are now at a time where we must work with urgency. Not without patience, and not in a haphazard, hysterical rush, but with a sense of ordered urgency. This student was raised her entire life in churches and considered herself as a faithful Christian. Not only that, but she was also an excellent student in our class. And yet, somehow, the word "penitent" was utterly foreign to her, even in relation to the word "repent", and this continues to trouble me profoundly. What could the Christian faith possibly amount to, if it amounts to anything at all, without a clear and sincere understanding of our own sin; and what could Christian practice possibly amount to, if it amounts to anything at all, without our genuine striving to atone for our misdoings through the confession of our sins, repentance, and enacting out our penance in our lived lives? And yet many of us know that my student is not unique—she was only the local reflection of the widespread and overarching degeneration of Christian faith and practice in our own day. Does she not simply reveal to not just us but the entire world the irrelevance of our churches in these troubled times? Why would anyone, why should anyone care about a religion that has reduced itself into something that can only offer banal moralistic platitudes?
Yes, Advent is a penitential season. For many of us, this is news (it certainly was for me when I first learned this), and it isn't just news because the fact is novel, but it is news because it is positively strange for us today, having been raised within societies and cultures that considers the lead-up to Christmas as a merry, jolly, and pleasant season. Some of my own favourite early-childhood memories, back when I still lived with my parents, involve adorning the Christmas tree with those precious little decorations and the excited anticipation of opening my presents. For those of us who grew up in Christian households in the midst of these societies and cultures it is difficult to think of Advent as a penitential season that is second only to Lent on the Christian calendar, and it is even more difficult to understand why this could be. We are eagerly anticipating the birth of Christ—should this not be joyous? Should this not be as merry as our present culture has turned it to be?
Now, that the season is a penitential one doesn't mean that it also can't be a joyous one, and many of our ancient Western Christian Advent traditions reflect both aspects. Nevertheless, Advent is a penitential season, and as such is a time for fasting and abstinence, and liturgically has a great deal in common with Lent. So why is this so? For us to tackle this question in our day requires the recovery of two aspects of our faith. The first is about the reason for the coming of Christ.
Christ was born to die for our sins. Even if we think that penal substitutionary atonement is a ghastly complex of ideas (that is, briefly, the idea that Christ was punished in our stead in order to satisfy the justice of God) and reject it outright, it nevertheless remains a central and irreplaceable fact for the Christian faith that Christ came into this world to die for us. What this exactly means if we reject penal substitutionary atonement is an interesting but an involved topic that is too much to discuss here, and hopefully we will find the time and place to engage with it in the near future. But whatever Advent might be, and however we are to understand it, the birth of Christ is linked irrevocably to his death and passion, to the horror of his betrayal and suffering, and his humiliating and agonizing death on the Cross for our redemption.
Along with this, the coming of Christ is also a prefiguring of the second coming of Christ at the End Time, of the manifestation of the Kingdom "on earth as it is in heaven" and the final judgement. This is succinctly put in the collect for the First Sunday of Advent in the Prayer Book that is to be repeated every day until Christmas Eve:
Almighty God, give us grace that we may cast away the works of darkness, and put upon us the armour of light, now in the time of this mortal life, in which thy Son Jesus Christ came to visit us in great humility; that in the last day, when he shall come again in his glorious Majesty, to judge both the quick an the dead, we may rise to the life immortal; through him who liveth and reigneth with thee and the Holy Ghost, now and ever. Amen.
This connection is made stronger also by the fact that in many of our Western Christian lectionaries it was customary to read lessons from the Book of Revelation during Advent, along with Isaiah. The birth of Christ is the prefiguring of the Second Coming, and from this we can come to see, through liturgical practice, the mystical relationship between the coming of the Saviour in the flesh in space and time and the ultimate culmination of all time at the final judgement. The first coming of Christ was in great humility, born as a fugitive and laid in a trough, as a prefiguring of the second coming of Christ in glorious majesty. And lest we are tempted, we must not reach so impatiently and greedily for the promise of the life immortal like childish hypocrites and opportunists. The Kingdom is not yet upon us, and neither are we inaugurated into the great cloud of witnesses yet. We are in this world, here and now in these troubled times, to work out our repentance in truth. If thinking about the birth of Christ does not make us reflect on our own sins then our understanding of the faith, indeed, our love of Christ, will be revealed to be catastrophically broken. There will be no truth in it.
This is largely why I think all the rather trite talk about "putting the Christ back into Christmas" is, despite its good intentions, not very helpful. If anything, given the perennial truth of the adage, "the road to hell is paved in good intentions", I'm almost inclined to say that this talk is in fact less than helpful because it traps us into a false piety. We currently live in an age where religiosity is almost synonymous with hypocrisy, where many Christians peddle to the world and to themselves a baldly consumerist idea that salvation will come from "knowing Jesus". "Attain your salvation with just one simple confession of faith! Devils hate him!" Certainly, if it is put like this the entire line of thought seems ridiculous and lacking in any religious authenticity. But this is the way that many Christians actually think and act in their lives, and this is little different in our Anglican churches and even in our own parish. It certainly is easy to be pious when it requires no sacrifice, and it certainly is easy to be generous when it costs nothing.
Christmas is, of course, about Christ, but it is also about Mass. To put it in a clearer way, it is about Christ as long as it is a Mass, and it is a Mass as long as it is about Christ. If we truly love Christ, if we truly regard Christ as our Saviour, we will worship him in a sacrifice of praise and thanksgiving. And we can only truly worship authentically if the worship is always pointed towards Christ as the centre of our being. What this means for us as we enter into the season of Advent is to reflect carefully and deeply into our shortcomings in spiritual, emotional, and intellectual sobriety, and to critically examine our posture in our prayers, both private and corporate. And, I suppose, in order not to get ahead of ourselves, we should pray—there is no shame in not knowing how to pray, given that so many of us have been raised surrounded by prayers that intuitively sound and feel inauthentic, infantile, and saccharine in the worst ways; not having been taught by anyone what prayer exactly is, how to do it, and why it matters at all. We all must start somewhere, and like all good things, learning how to pray doxologically, that is, learning how to glorify God and to confess that he is worthy of worship (which, frankly, is a very peculiar thing at first), is something that we need to be taught and wrestle with. Such a wrestle will be, in its own way, a mortification of our flesh. How this is to be expressed in our services is something we need to think about fairly seriously and urgently.
As a penitential season, it is also a season for fasting. On this point, rather than try to labour on making the practice of fasting comprehensible here, I'd like to instead talk about a foundational aspect of the Christian faith that provides the inner reason for Christian fasting. There is a deep and pervasive tendency among Christians today to abstract the substance of our faith away from its historicity, that is, its temporal and physical realities. Christianity is not just about going on some sort of "spiritual journey" and amassing the right cultured and respectable feelings and attitudes with the goal of becoming a nice person in our domestic societies. This is bourgeois nonsense. If that's all there is to our faith then frankly there is no reason for us to exist and we should close the doors to our parish because the unchurched in our day do all this well enough on the "spiritual" free market. We could just take our rector's salary and buy ourselves memberships to the latest new age swindler instead.
Think back to the birth of Christ from the Virgin Mary—why did our Lord have to die for our sins? Why did God have to take on human flesh for our salvation? God could have just snapped his fingers and pronounced us forgiven, couldn't he? Couldn't God just have appeared in the clouds and delivered a user manual to salvation for us to do diligently? But Christ didn't do this. He was enfleshed into this world in humility, toiled in this world on his feet speaking to us, healing us, embracing us, weeping with us, eating with us, dying for us, being raised again for us. What Christianity confesses is not just some abstract salvation where our goal is for our souls to go to heaven. It confesses that this world, in all its temporal materiality, was deemed good by God in its genesis, and that this was further affirmed by God himself by the eternity of the divinity entering into the temporality of historical existence, and of his redemption of this world by participating in it. For the Christian it is forbidden to say that they are their souls. I am not my soul. I am my soul only insofar as my soul is one with my body, and I am my body only insofar as it is one with my soul. And this is connected intimately with the fact that our faith is only true insofar as it is made manifest in our acts, and our acts are only true insofar as they cohere with our faith. Once we begin to understand this strange aspect of the Christian faith which derives from the being of Christ, the inner reason for fasting will become comprehensible naturally in time.
For those who will fast, don't fast as the hypocrites do but fast with joy, and always remember that fasting without prayer and almsgiving is the fasting of the devil. If we cannot fast in humility and generosity it would be better not to fast at all than to risk being a hypocrite.
For all of us, through this season we should keep close in our hearts the Advent introit for the Daily Office in our Canadian Prayer Book: "Repent ye; for the kingdom of heaven is at hand" [Matthew 3:2].
Let all mortal flesh keep silence; for the King of kings and Lord of lords comes forth to be sacrificed
In Christ, Paulus
Comments for this post are now off.